Empire Apples
Available Oct. 21 through Dec 25
The Empire apple is a cross between Jonathans and McIntosh apples. The following describes the McIntosh Apple: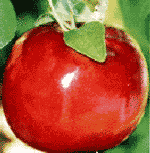 In 1796 John McIntosh was a 19-year-old from the Mohawk Valley in New York who was smitten with a young woman but faced such strong opposition to the romance from his father that the couple hatched a plan to elope to Canada. His bride-to-be left first, and he soon followed. By the time he caught up to her, he found she had died of a sudden illness, and he could only grieve at her grave. He hiked off into the Canadian wilderness to become an anguished hermit. Five years later he homesteaded near Dundela, Ontario, not far from the St. Lawrence River, and transplanted some wild apple saplings he found there, one of which survived and produced fruit of such tangy allure and aromatic fragrance that it became well known in the region.
It wasn't propagated into commercial potential until years later by John McIntosh's son, whence it became known as McIntosh Red. The variety is thought to be related to the Fameuse apple of the region. McIntosh has juicy white flesh and a rather tough skin that has mixed red and green coloring. It's a favorite apple for eating out of hand but also is widely used in salads and sauces and pies and is a mainstay in fresh cider.
The McIntosh doesn't grow well in our area, so growers choose Empire, a substitute with similar characteristics..