Secure Ordering Online – Easy as (Apple) Pie!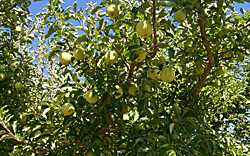 When you see an item you would like to order, just click the ORDER button.  You will see the items added to your shopping cart, which appears at the bottom of each screen containing products.
Once you reach the checkout, you'll be able to review  your order. Then you will enter your shipping, billing, contact and payment information and submit your order.   All order information is secured using your browser's built in encryption. We will not provide any information about our customers to other companies under any circumstances.
After your have completed and submitted your order you will receive confirmation that the order has been received.  When we ship your order we will send a second email with the order information, and an expected delivery date.  Your credit card will not be charged until your order ships.  
So go ahead and shop around our organic apple and organic pear pages..